7 Wonderful Ways To Engage Your Child At Home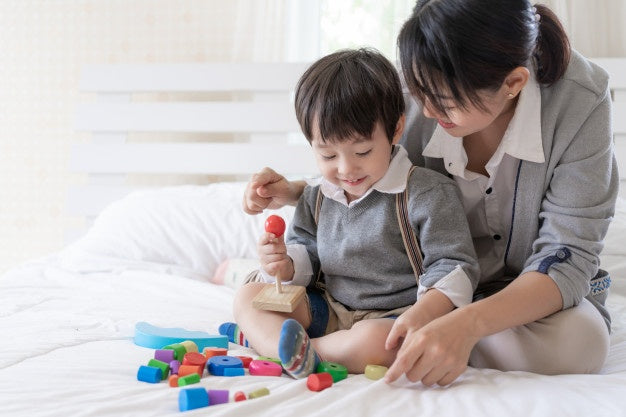 When parents engage with their children, they tend to get the love and support, which they expect, the most. As a parent, you can make a huge difference in the growth of your child. Since children now are learning from home, it is a great time to engage them once they have completed their online classes. It is very simple and easy to encourage them to do something new, which makes them eager to learn new things. 
If you wonder how to engage them or what kind of activities are best, here are some ways through which you can get an idea. Without further ado, let's get started.
⦁ Encourage them to take up a new hobby
When your child complains about being bored, ask them to choose something new to try. Hobbies are highly essential in reducing unavoidable stress since they give an outlet for creativity. Painting, dancing, cooking, reading, or playing indoor games can be some of the hobbies you can help them take up.
For example, some children tend to have an interest in learning about trucks and their specifications. Each activity for kids comes with its creativity, and your child will have something to look forward to each day. So ask your kids questions, know what they are curious about, understand their interests, and nudge them in the right direction.
⦁
Engage kids in house chores
When children learn to do household work, they may learn new skills. So make your children join you in the household tasks like dusting, drying dishes, and putting everything in its place. After all, if kids learn at an early age that no job is too large or too small, they will grow up to be more empathic people.
Encourage your kid, whether he or she is a boy or a girl, to assist you with minor duties such as cleaning their area, keeping shelves neat and tidy, or arranging clothes; these are crucial skills to help them become organized and disciplined persons.
⦁
Create a playful learning experience
Introduce your child to do-it-yourself games and activities to keep them engaged when they crave screen time. For example, you may sit with them and watch informative content on a smart TV or listen to podcasts and music that engages their senses and skills.   
⦁  Allow them to express their talents
Colors have always captivated youngsters, and virtually all of them like painting, drawing or even scribbling. Let your son/daughter draw a unicorn, an ant, and a butterfly simultaneously if they wish to; let them scribble anything they want. So you can see the creative outlet that art can provide to their imagination as nothing else can. I am sure your walls bear witness to this. DIY crafts for kids in routines are an excellent way to activate creativity.
Not only colors, activities like dancing and singing in duet fulfill this spur of energy and give you time to bond on their favorite things. It develops a sense of familiarity and commonness with the kids.
⦁ Develop their thinking
Everyone enjoys hearing stories—children, above everything. A well-told narrative will always hold a child's attention. Books open up entirely new worlds, help grow the brain, foster imagination, and expand your child's vocabulary. If your child enjoys reading and spends a lot of time with books, he or she is in good hands. Reading is like using an educational toy for 3-year olds.
Choose a book that is appropriate for your child's age. You can begin with children's stories if your child is too young.
Ensure that the entire subject is not too difficult for your youngster, as this is where you will establish the groundwork for his or her reading. Inviting your youngster to act out the narrative while you read adds to the pleasure.
⦁ 
Spend some quality time with your child
Consider the ability to stay home for your kids to be a gift in disguise. There are many ways to spend meaningful time and bond with your kids. 
Reading stories
Going for a walk
Baking a cake
Playing video games
You can also make different rules every week for family time, so it doesn't get monotonous. For example, one week, decide that all of you house members will sit and watch a movie (kids friendly) at least twice a week, and the next week, announce that we all will vacuum the house as a unit. These activities and entertainment are bliss for your kids to bond with their loved ones.
⦁  Play along in their stories
Imagine your children wandering with fairies and conversing with rabbits! Playing pretend to play games with your youngster will help a lot in engaging them. For example, collect some clay or playdough. Allow them to make up tales and act them out.  
Role-playing is also an excellent technique for your youngster to realize all of his or her ambitions. It's simple.
Choose your child's favorite story or one he or she devised.
Select a character for yourself and your child.
All that remains is to empty the closet, dress up, and begin acting out the play.
Grandparents never get tired of the kids in their play-arts. Their genuine enthusiasm and frequent encouragement make them an ideal audience. You may even ask your neighbors and their children to participate in the game. However, there is more to engaging children in fun-filled activities like DIY projects for kids. 
So these are some of the most acceptable methods to keep your kids entertained during the lockdown. Make your household an open, creative, and learning environment for your children. Your house can undoubtedly be a classroom. You can be their teacher, teaching them life skills, increasing their emotional quotient, and developing their personality to become firm, empathic, and self-sufficient. At the same time, you're creating a safe atmosphere for your children that helps.
---